Do you know what's almost as enjoyable as playing fetch with your dog? Give them a frozen, frosty treat! Not only are they great for keeping your furry friend hydrated and cool, but they're also easy to make and super tasty. Dog-treat recipes range from healthy snacks to sweet and flavored goodies that will surely get their tails wagging. Plus, you can modify most of these recipes to fit your dog's palette, by swapping out whole ingredients in favor of certain flavors and whipping up something cooling for your dog in summer. 
No matter what kind of tasty concoction you come up with, homemade dog treats are always a welcoming add-on for any warm day! Here are some really easy and tasty ones.
Peanut Butter and Banana – Cooling Dog Treats
First off, peanuts are rich in protein. Dogs are also highly fond of protein, so peanut butter appeals to them on a profoundly instinctual level, akin to their attraction to food with strong protein content. On top of that, the roasting of the peanuts gives the butter an intensely savory scent, which might smell to your dog like a roasted meal prepared by their hooman.
This recipe combines peanut butter and bananas to make a frozen treat. They are quite suitable for digestion and taste delicious. Bananas should be incorporated into your dog's diet as they are high in potassium.
The ingredients required are just bananas and peanut butter, but you can go on to add some probiotic powder to the mixture. If you plan to keep them exclusively natural, skip this part. Place all the ingredients in the blender to get a nice smooth paste.
You can use different molds to make Cooling Dog Treats look tempting. You need to freeze the mixture overnight to get a solid form. It's a great cool treat that ensures protein and potassium richness, with the contentment of being homemade.
Strawberry and Yogurt – Healthy and Tasty
Strawberries are a sweet and healthy treat, low on calories and full of fiber and vitamin C. This popular fruit is excellent for dogs as they help to maintain and polish their teeth. Strawberries are also great for a dog's skin and coat. The powerful antioxidants help support your dog's immune system and its functions.
So here's another recipe to make cool treats for dogs. Mix one cup of strawberries with one cup of Greek yogurt and blend well. Pour the mixture onto cool-shaped molds that can hold a satisfying amount of the frozen treat. 
The treats will need a few hours to settle, freeze, and be ready to eat. To make it healthier and beneficial, add a couple of drops of Omega oil to each treat before freezing.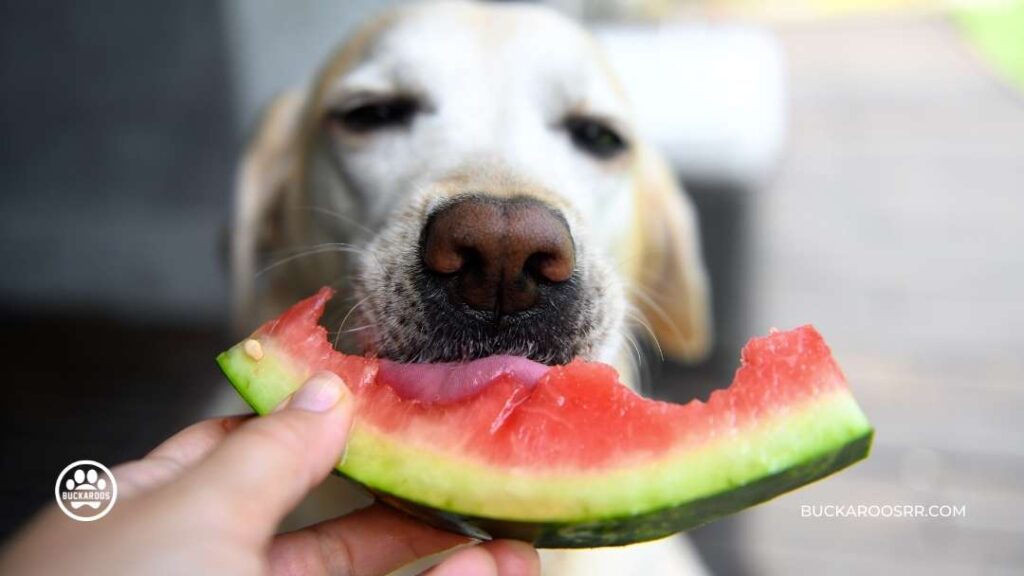 Watermelon and Beef – Cooling Dog Treats
Watermelon should surely be incorporated into your pet dog's diet. Its high water content makes it a favorite fruit to beat the summer heat. It can be fed directly by slicing it into cubes, or as a frozen dog treat for summer. The best part is that watermelon can be easily paired with other ingredients and enjoyed by your beloved canines. 
This frozen treat recipe calls for watermelon and beef broth. You can go for store-bought beef broth but make sure it is saltless, or the sodium content is low. Alternatively, you can even prepare the broth at home by boiling some beef bones and using the soup for this recipe.
Deseed the watermelon carefully, and slice it into small pieces. You can blend it to make a puree or smash it with a fork. Add some broth to the watermelon and directly pour it into molds. If you have popsicle molds, you can freeze these treats with a wooden stick, making them easier to feed. 
If your dog likes chicken broth, you can replace beef with chicken. The protein-rich broth and watermelon will serve as a delicious and healthy treat. Moreover, broths and soups are great immune boosters.
Lets Tango With Tangy Orange & Pumpkin – Cooling Dog Treats
You simply cannot ignore orange during the summers. It is like the epic fruit made to quench your thirst and conquer the heat. So why not refresh your little buddy with its tangy and replenishing qualities. Besides, they are an excellent source of Vitamins C, A, and B6, and essential fiber, potassium, magnesium, and thiamin.
Pumpkin too is excellent for Zinc and Iron, and with orange, it not just boosts the nutrition level but turns out to be a delightful treat.
Puree the pumpkin with some orange slices in a blender. If you find the mixture too thick, you can add some water. Freeze the solution in some molds and let them rest for a few hours. Feed them to your pup and let them enjoy their out-of-the-world experience. 
Blueberry Yogurt Smoothie – Very Berrylicious
Blueberries are a great source of antioxidants which have shown to improve the health of animals in a way that slows the effects of brain aging at a rate similar to anti-aging drugs. Hence it is clear that this is one fruit you should choose for your munchkin.
Even though you will hardly find any dog refusing the original blueberry taste, it is still always exciting to spice things up – or instead, freeze them up!
We give you a recipe that involves blueberries and Greek yogurt; blend it up to make a nice smoothie. Freeze the mixture in some adorable molds overnight, and you'll have a homemade summer treat for dogs ready to enjoy. 
Mango & Avocado – Ice Cream Delight 
Thinking of sharing a bowl of ice cream with your dog? We have a few suggestions. Mango and avocado ice cream can be easily made at home. Mango is high in fiber and vitamin C, making it a great fruit to share with your dog. It also promotes digestive wellness and immune support for your darling pet dog.
To make this recipe, you'll need half a cup of diced mango, 1/4 cup of diced avocado, and kefir. Kefir is a delicious drink packed with gut-boosting vitamin B, probiotics, and minerals. Kefir is also relatively easy to digest due to its fermented nature and can benefit your dog's overall digestive health.
It's usually made from cow's milk. Still, it is readily available in other versions produced from sources like goat's milk, coconut juice, or rice. It's a great alternative for your lactose-intolerant dog who would be able to tolerate this tasty, nutritious alternative.
To make the ice cream, you will need a blender and an anti-freeze container. Blend the kefir, mango, and avocado and pour the mixture into a container. Once frozen, you can scoop out yummy scoops of nutritious and energy-packed ice cream for your dog.
Another ingredient that can be added is some beef or chicken broth. It is limited to your imagination and your dog's taste; otherwise, many healthy and delicious ingredients can be blended to give him a nice cool summer treat.
Dogsicles! Oops! I mean Popsicles For Your Dog.
A super easy recipe to add some extra hydration and nutrients to your dog's diet. Prepare chicken or beef broth popsicles with chunks of carrots and some peas. Carrots are highly nutritious vegetables and provide the same benefits as they do to humans. They are rich in beta-carotene that maintains the normal vision and prevents muscular degeneration. Peas, on the other hand, are suitable for digestion and are rich in vitamins and minerals. 
It's an effortless procedure, and you need some popsicle molds, carrot chunks, and your pet's favorite broth. Add the chucks to the mold, pour the broth, and place the stick. Freeze overnight and let your beloved one enjoy its yummy summer treat after an excellent exercise or a walk. 
These great popsicles are packed with essential nutrients for your pup and provide some extra hydration. Your dog can achieve the flavor and benefits of carrots and peas dipped in some yummy frozen broth.
Homemade Summer Treats For Dogs Are The Best
With recipes to make homemade jerky for dogs on a jerky day to summertime cooling dog treats, you will surely achieve pleasure when you witness your pet enjoying them.
Highly nutritious, preservative-free, and hygienic homemade treats for a dog can be easily made and stored. Make your special one feel extra special when you help him beat the heat with cooling dog treats for summer. Make yourself proud and your pet happy with these easy-to-make recipes and luscious frozen treats.
BUCKAROOS DOG DAYCARE PROVIDES Cooling Dog Treats AT
We at buckaroos provide exceptional care to all our doggy friends, and we arrange some cooling treats every now and then during summer. You can contact us and learn more about our boarding plans here.